With the introduction of the Corsair K65 RGB Mini, the company is finally joining the 60% keyboard market in 2021.
60% Gaming Keyboard with Cherry MX Switches
The keyboard features a 60% form factor which means that it has about 60% of the keys of a full-size keyboard. It lacks the function row, numpad and navigation block. Shortcuts are required to use the functions of these missing keys. That's basically the case for all mini keyboards, the concrete assignments of shortcuts however differ from model to model. The Corsair K65 RGB Mini puts for example media controls in the bottom right corner and has the arrow keys in the center of the keyboard. Those are not set in stone though, since the keyboard is compatible with Corsair's iCUE software, any key can be freely remapped. Moreover the software is used to configure the RGB illumination and manage profiles. If you don't want to install any software, you can also control lighting and profiles via keyboard shortcuts.
Just as usual, Corsair features switches from Cherry. You can choose between Cherry MX Red, Cherry MX Silent Red and Cherry MX Speed. All three are linear switches, a tactile option is not available.
Standard Bottom Row and PBT Keycaps
The keyboard is shipped with durable double-shot PBT-keycaps. Additionally, a keycap puller and extra keycaps for the spacebar and the ESC key are included. For further modification, you can buy one of the colored keycap sets from Corsair, they are available in white, red, blue, green and pink. Since size and spacing of the keys confirms to the commonly used standard, you can also take any other keycap set that fits MX stems. All things considered, the Corsair K65 RGB Mini is a quite customizable keyboard.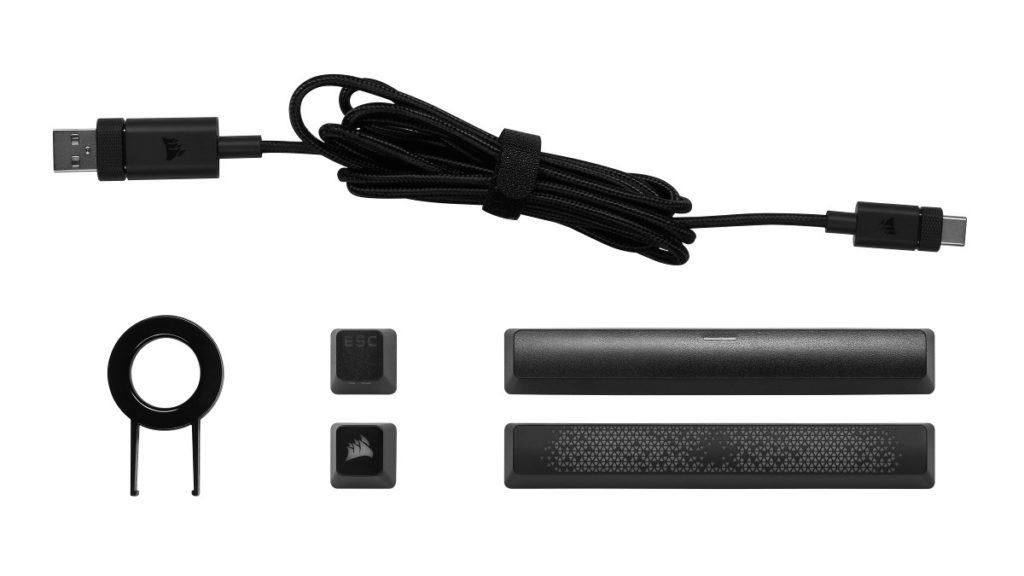 (c) Product images from Corsair
---
Tech Specs for
Corsair K65 RGB Mini
Dimensions:
294 x 105 x 44 mm
Macro Keys:
No macro keys
Media Keys:
Yes (integrated)
USB Passthrough:
No USB Passthrough
Switches:
Cherry MX Red, Cherry MX Silent Red, Cherry MX Speed
Keycaps:
Double-shot PBT keycaps
Extras:
Fully programmable, extra keycaps, keycap puller
Available since:
Mar. 2021
---
Further Information on Amazon.com
Corsair K65 RGB MINI 60% Mechanical Gaming Keyboard (Customizable Per-Key RGB Backlighting, CHERRY MX Speed Mechanical Keyswitches, Detachable USB Type-C Cable, AXON Hyper-Processing Technology) Black
(
Read customer reviews
)
Buy from Amazon.com
---
Mechanical Keyboard Score
The mechanical keyboard score is our overall score for a keyboard. The score is based on the available ratings and critics and makes an easy comparison between different mechanical keyboards possible. It is also used for our mechanical keyboard ranking.
---
Reviews
---
---
---
---
---
---