The Razer BlackWidow V4 Pro is a mechanical keyboard in the high-end segment. It was first introduced in February 2023.
BlackWidow V4 Pro: A new Level of Control
The BlackWidow V4 Pro is not your standard 08/15 typing board, instead it's more fitting to think of it as a multi-talent input device. The core is built with either silent Razer Yellow Linear Switches or with Razer's tactile Green Switches. Razer Synapse software provides flexibility, any key can be arbitrary reassigned. A convenient rotary knob is placed in the upper left corner of the keyboard – the so called Razer Command Dial can be used to switch applications, navigate through browser tabs, zoom, scroll and do much more. South of the Command Dial, we have five macro keys to be assigned with custom commands. Additionally, there are some nifty media controls in the upper right corner of the keyboard to control playback and volume.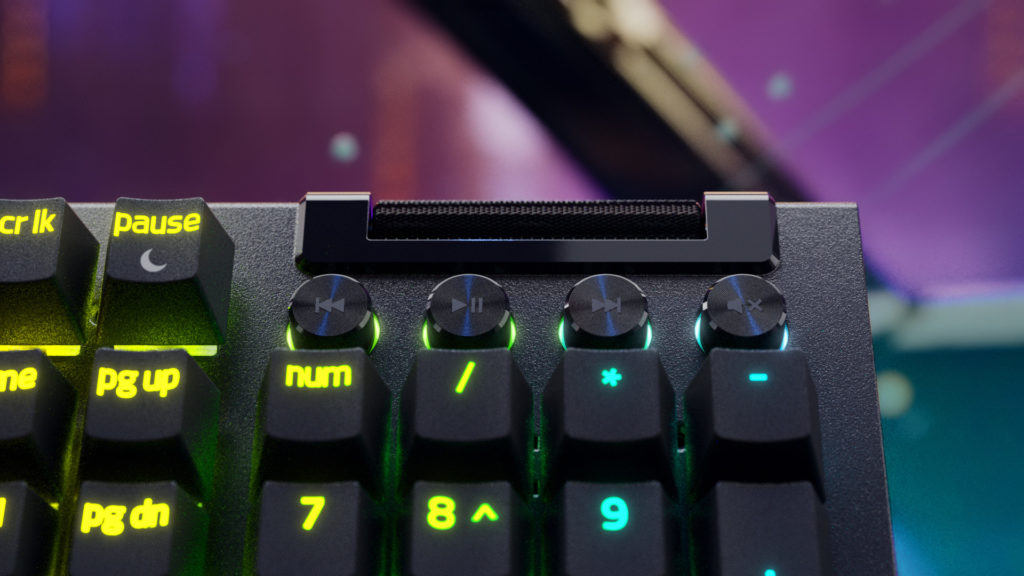 Chroma RGB and Extra Features
Anyone who has ever bought a Razer product knows: the manufacturer does illumination in style. The BlackWidow V4 Pro offers an impressive RGB illumination with support for various operation modes. Numerous lighting presets, including effects like breathing, ripple or wave, enable a quick and pleasant setup. When needed though, users can always switch to static lighting or individually adjust illumination settings on a per-key basis. Thanks to widespread partner integration, the LEDs of the Razer BlackWidow V4 Pro can also light up dynamically based on events in countless games.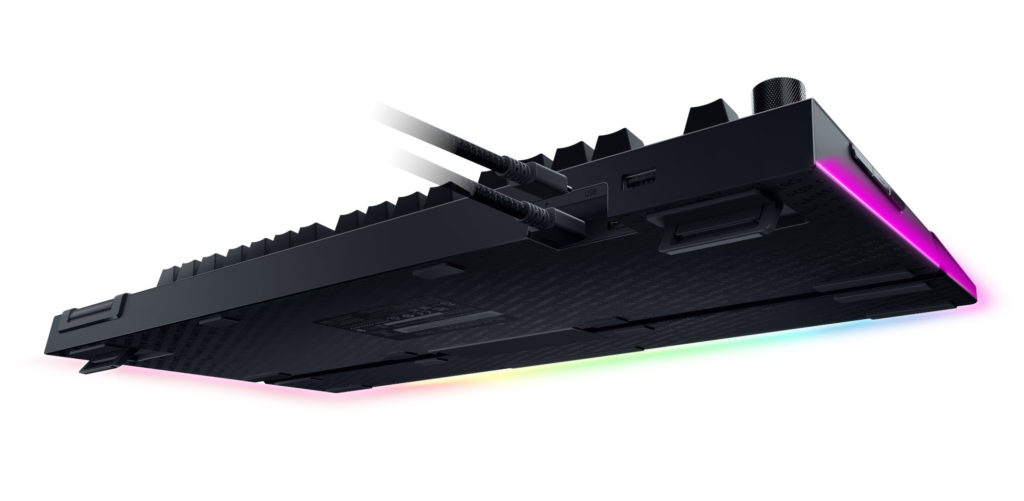 More highlights of the BlackWidow V4 Pro include 8000 Hz polling rate, a detachable USB cable, USB passthrough, onboard profile storage and a wrist rest with integrated underglow.
Razer BlackWidow V4 Pro vs V3 Pro – No more Wireless Mode
How does the BlackWidow V4 Pro fare against its predecessor BlackWidow V3 Pro? The V4 Pro offers many new features: among other things, it has a USB passthrough, underglow and more sophisticated media controls. Also, the V4 Pro celebrates a comeback of dedicated macro keys. The only thing missing from the V3 Pro are its wireless capabilities – the V4 Pro always must be connected via USB cable. Overall, the V4 Pro is a worthy upgrade from the V3 Pro.
---
Tech Specs for
Razer BlackWidow V4 Pro
Dimensions:
464 x 152 x 44 mm
Connection:
USB (2 ports)
Media Keys:
Dedicated media controls
Switches:
Razer Green, Razer Yellow
Keycaps:
Double-shot ABS keycaps
Extras:
With palm rest, fully programmable
Available since:
Feb. 2023
---
Further Information on Amazon.com
Razer BlackWidow V4 Pro Wired Mechanical Gaming Keyboard: Yellow Mechanical Switches - Linear & Silent - Doubleshot ABS Keycaps - Command Dial - Programmable Macros - Chroma RGB - Magnetic Wrist Rest
(
Read customer reviews
)
Buy from Amazon.com
---
Mechanical Keyboard Score
The mechanical keyboard score is our overall score for a keyboard. The score is based on the available ratings and critics and makes an easy comparison between different mechanical keyboards possible. It is also used for our mechanical keyboard ranking.
---
Reviews
---
---
---
---
---
---
---
---
---