Do you like Razer keyboards but always wished for a broader range of switches? Then you should take a good loot at the the Razer BlackWidow 75% released in August 2023. The keyboard comes with hot-swappable architecture, so you can easily replace the built-in switches without the need of soldering.
Hot-Swappable Mechanical Keyboard
The Razer BlackWidow 75% features Gen-3 Razer Orange Switches. These are tactile switches without click sound. The hot-swappable architecture of the keyboard enables you to exchange those switches with ease. With the included 2-in-1 keycap-switch puller you can simply grab the switch and pull it out, just like you would do with keycaps. The sockets support hot-swappable switches with 3 or 5 pins.
The hot-swap feature is very convenient in case you ever need to repair your keyboard – swapping out a defect switch is no hassle at all. And it becomes particularly attractive if you consider yourself a modder. You can replace the switches altogether and create a unique keyboard and get your ideas into shape. The solid build of the Razer BlackWidow 75% with integrated sound dampening is a great base for doing so.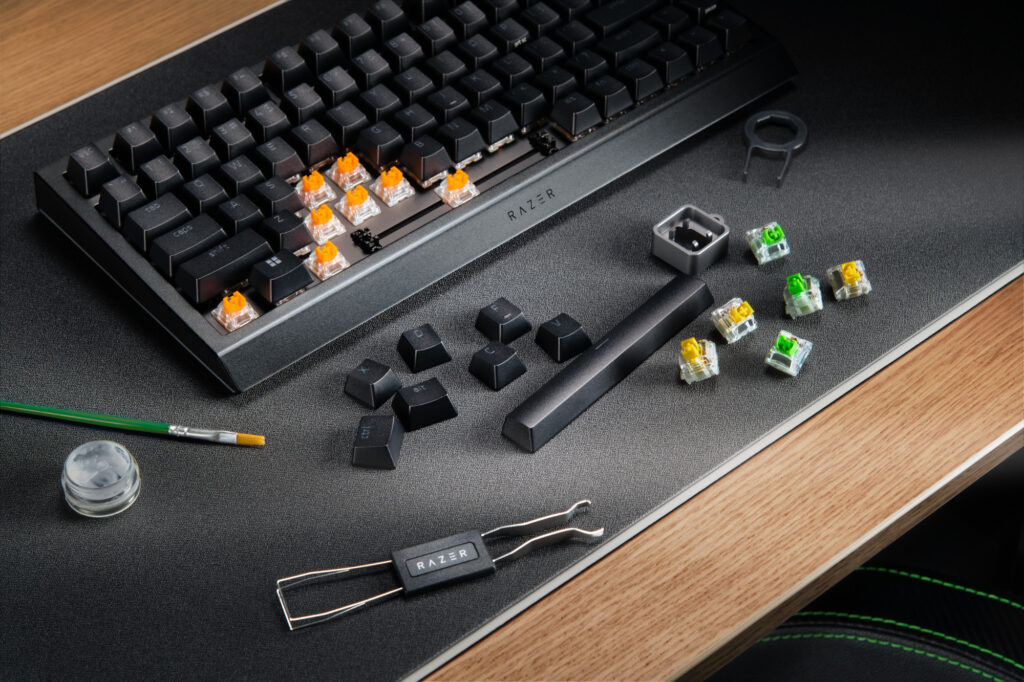 Enjoy Gaming and Multimedia with the Razer BlackWidow 75%
The keyboard is well equipped for gaming and multimedia applications. With a polling rate of 8000 Hz, full n-key rollover, a dedicated gaming mode and fully programmable keys you are excellently prepared for demanding gaming sessions. Additionally, rich per-key lighting and 2-side underglow will ensure stunning aesthetics. All lighting effects can be configured via Razer Synapse software. Furthermore, the Razer BlackWidow 75% is packaged with a magnetic wrist rest and offers a few handy dedicated media controls, including a multi-function roller.
Razer's debut in the world of 75% keyboards
As the name already reveals, the keyboard has a 75% form factor. This means, compared to a full-size keyboard, it essentially only lacks the numpad, all other keys are present. The keys are arranged in a rather compact way, so that it needs less space than a typical TKL keyboard. The Razer BlackWidow 75% is only about 12.6 inches long.
---
Tech Specs for
Razer BlackWidow V4 75 %
Dimensions:
321 x 156 x 24 mm
Macro Keys:
No macro keys
Media Keys:
Dedicated media controls
USB Passthrough:
No USB Passthrough
Keycaps:
Double-shot ABS keycaps
Extras:
With palm rest, fully programmable, keycap puller
Available since:
Aug. 2023
---
Further Information on Amazon.com
Razer BlackWidow V4 75% Mechanical Gaming Keyboard: Hot-Swappable Design - Compact & Durable - Orange Tactile Switches - Chroma RGB - MF Roller & Media Keys - Comfortable Wrist Rest - Black
(
Read customer reviews
)
Buy from Amazon.com
---
Mechanical Keyboard Score
The mechanical keyboard score is our overall score for a keyboard. The score is based on the available ratings and critics and makes an easy comparison between different mechanical keyboards possible. It is also used for our mechanical keyboard ranking.
---
Reviews
---
---
---
---
---