The Razer BlackWidow V3 Mini HyperSpeed was announced on 25 May 2021. The keyboard expands the BlackWidow V3 family with another option.
BlackWidow V3 Mini: The New 65% Keyboard
Originally, the BlackWidow V3 was available in three different versions: The standard BlackWidow V3 with cable, the wireless BlackWidow V3 Pro with extended media controls and the compact BlackWidow V3 Tenkeyless which comes without a numpad. Now, Razer created a fourth option for all those who think that tenkeyless is still too big: the new BlackWidow V3 Mini. It is a 65% keyboard featuring arrow keys and part of the navigation block, but omitting numpad and function row.
Don't judge it by its size
The BlackWidow V3 Mini is small, but is has quite a lot to offer. Just like the larger versions, the BlackWidow V3 Mini features Razer's Chroma RGB lighting, n-key rollover, a gaming mode and the possibility to freely remap any keys of your choosing. Multiple configurations can be stored in separate profiles and on-board storage enables you to activate a profile even when on another computer. There is obviously no space for dedicated media controls, but common media functions are accessible via shortcuts.
You can buy the keyboard with either tactile Razer Green Switches or with linear and noise-dampening Razer Yellow Switches. Both versions feature double-shot ABS keycaps, they are more resistant to wear off than common keycaps.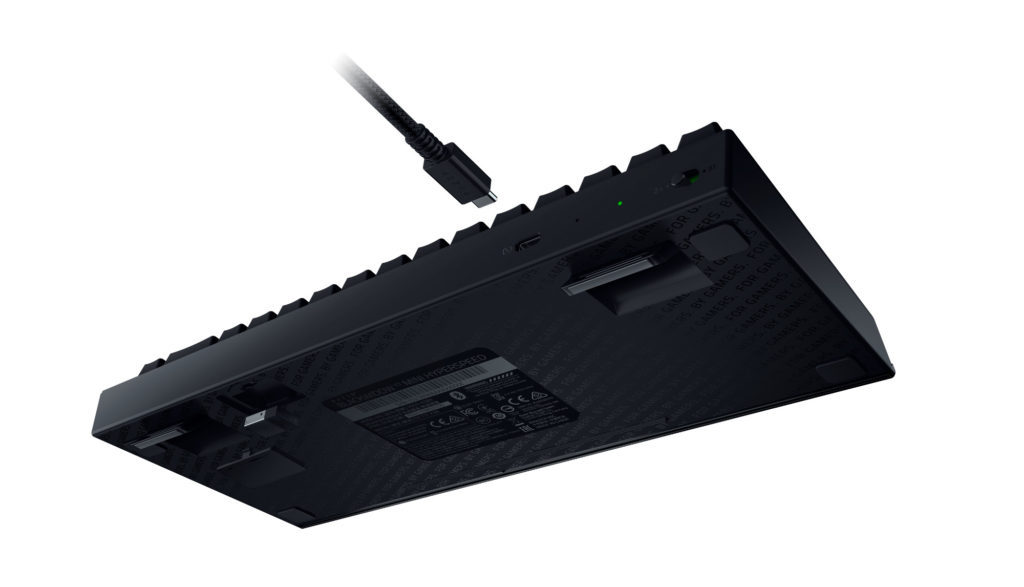 Versatile Connectivity Options: Wireless, Bluetooth and Cable
The Razer BlackWidow V3 Mini HyperSpeed is a wireless mechanical keyboard. The term HyperSpeed refers to Razer's 2.4 GHz wireless technology that allows to connect compatible mouse and keyboard with just one single dongle. The keyboard also supports Bluetooth and can be paired with up to three devices. The integrated battery promises up to 200 hours of use per charge, calculated with disabled illumination. Charging simply requires plugging in the detachable USB-C cable, you can continue to use the keyboard in the process.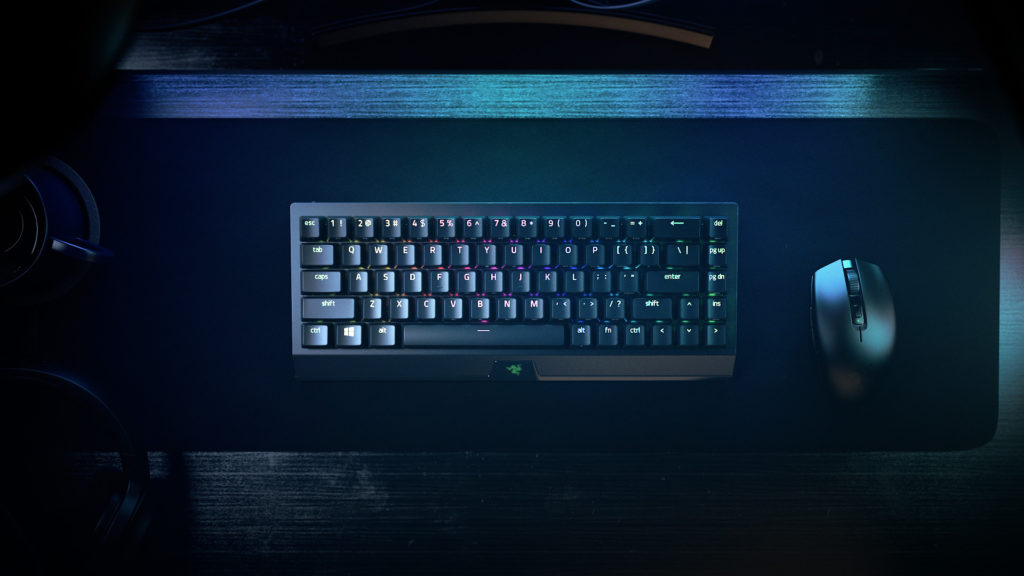 Sources: Product Images from Razer
---
Tech Specs for
Razer BlackWidow V3 Mini HyperSpeed
Dimensions:
319 x 131 x 41 mm
Macro Keys:
No macro keys
Media Keys:
Yes (integrated)
USB Passthrough:
No USB Passthrough
Switches:
Razer Green, Razer Yellow
Keycaps:
Double-shot ABS keycaps
Extras:
Fully programmable
Available since:
May. 2021
---
Further Information on Amazon.com
Razer BlackWidow V3 Mini HyperSpeed 65% Wireless Mechanical Gaming Keyboard: HyperSpeed Wireless Technology - Green Mechanical Switches- Tactile & Clicky - Doubleshot ABS keycaps - 200Hrs Battery Life
(
Read customer reviews
)
Buy from Amazon.com
---
Mechanical Keyboard Score
The mechanical keyboard score is our overall score for a keyboard. The score is based on the available ratings and critics and makes an easy comparison between different mechanical keyboards possible. It is also used for our mechanical keyboard ranking.
---
Reviews
---
---
---
---
---
---
---