The brand Razer is first and foremost known for its wide range of gaming products. In summer 2020, Razer introduced for the first time a peripheral suite (Wireless Razer Productity Suite) designated for use in office. In November 2021, the manufacturer revealed the second generation of its office suite. The suite includes the mouse Razer Pro Click Mini, the keyboard Razer Pro Type Ultra and the mousepad Razer Pro Glide XXL. Each of the three products can be purchased separately.
Pro Type Ultra: Stylish Wireless Mechanical Keyboard
There is no doubt that the Razer Pro Type Ultra is quite an eyecatcher. Its white keys and white housing provide an elegant look in every office. But what is beyond its looks? The Pro Type Ultra is a wireless, mechanical keyboard with silent Razer Yellow switches and white backlit keys. Its ABS keycaps have a soft-touch coating for additional comfort. Also, a plush leatherette wrist rest is included.
The keyboard offers two wireless connection modes: 2.4 GHz Wireless and Bluetooth. Battery and USB cable for charging are including. According to Razer, the keyboard lasts up to 210 hours with backlighting off and up to 13 hours with backlighting on. These stats are somewhat mediocre considering that Logitech's wireless G915 promises a battery life up to 1000 hours / 30 hours.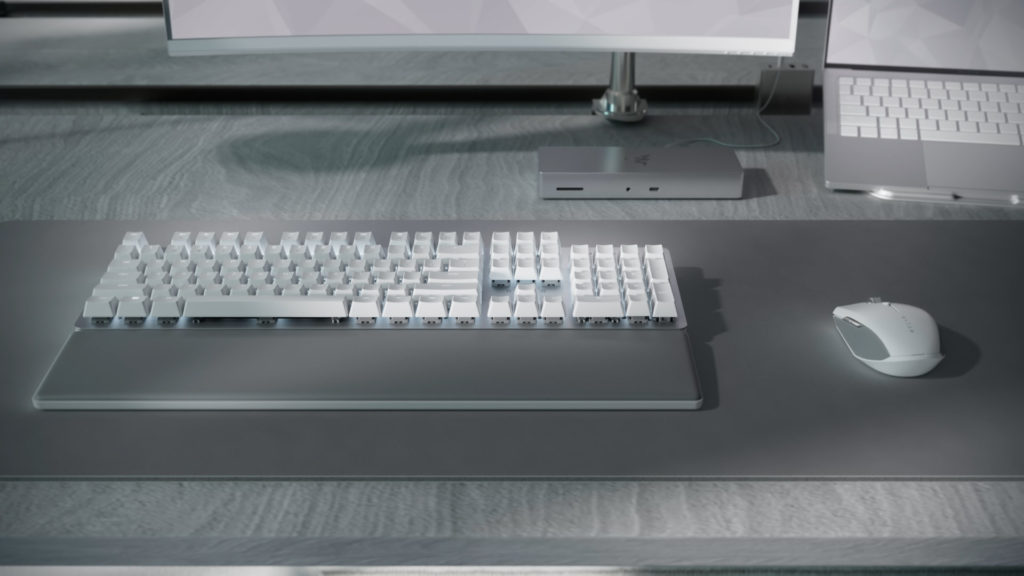 Is the Razer Pro Type Ultra suitable for Gaming?
The Razer Yellow switches are linear switches well suited for both office and gaming. Also, the keyboard's 10 key-rollover is surely sufficient for basically any sort of gaming. Razer Synapse software can be used to reprogram any keys and assign macros. So overall, the Razer Pro Type can definitely be used for gaming. But its lack of a dedicated game mode and its low polling rate make it a choice inferior to today's top gaming keyboards.
---
Tech Specs for
Razer Pro Type Ultra
Dimensions:
439 x 131 x 40 mm
Illumination:
Yes (one color)
Macro Keys:
No macro keys
Media Keys:
Yes (integrated)
USB Passthrough:
No USB Passthrough
Keycaps:
Laser etched ABS keycaps
Extras:
With palm rest, fully programmable
Available since:
Dec. 2021
---
Further Information on Amazon.com
Razer Pro Type Ultra Wireless Mechanical Keyboard: Silent, Linear Switches - Ergonomic Design - HyperSpeed Technology - Connect up to 4 Devices - Fully Programmable Keys & Smart Controls
(
Read customer reviews
)
Buy from Amazon.com
---
Mechanical Keyboard Score
The mechanical keyboard score is our overall score for a keyboard. The score is based on the available ratings and critics and makes an easy comparison between different mechanical keyboards possible. It is also used for our mechanical keyboard ranking.
---
Reviews
---
"Responsive, sleek and powerful, the Razer Pro Type Ultra keyboard is one of the better keyboards around. Loaded with useful features at a great price, you won't find a much better value on the market. If you're looking for backlit lighting or you like to program macros to facilitate your workflow, the Pro Type Ultra may be your next keyboard. But, if you have no idea what a programmable macro is and just want a standard input device, you'll have to question if the Pro Type Ultra is right for you."
---
"Razer's Pro Type Ultra is a clear indication that the peripheral and laptop maker wants to start delivering to a more professional audience. But while the Pro Type Ultra definitely succeeds when it comes to looks, the ticking stabilizers are a serious blow to its attempt at a silent operation."
---
"In the Pro Type Ultra, Razer improves its premier productivity keyboard with max-speed switches and more wireless battery life to create what's among the best non-ergonomic keyboards available."