The Corsair K70 Max is a gaming keyboard with magnetic-mechanical switches. It is available since August 2023.
Gaming Keyboard with Innovative Switches
With the K70 Max, Corsair presents its newest switch innovation: the Corsair MGX switches use magnets to recognize actuation. No physical contact is required. This gives a lot of flexibility to the user, as he can freely define the actuation point anywhere between 0.4 mm and 3.6 mm. It also makes dual-point actuation possibly, i.e., performing two actions within a single keypress.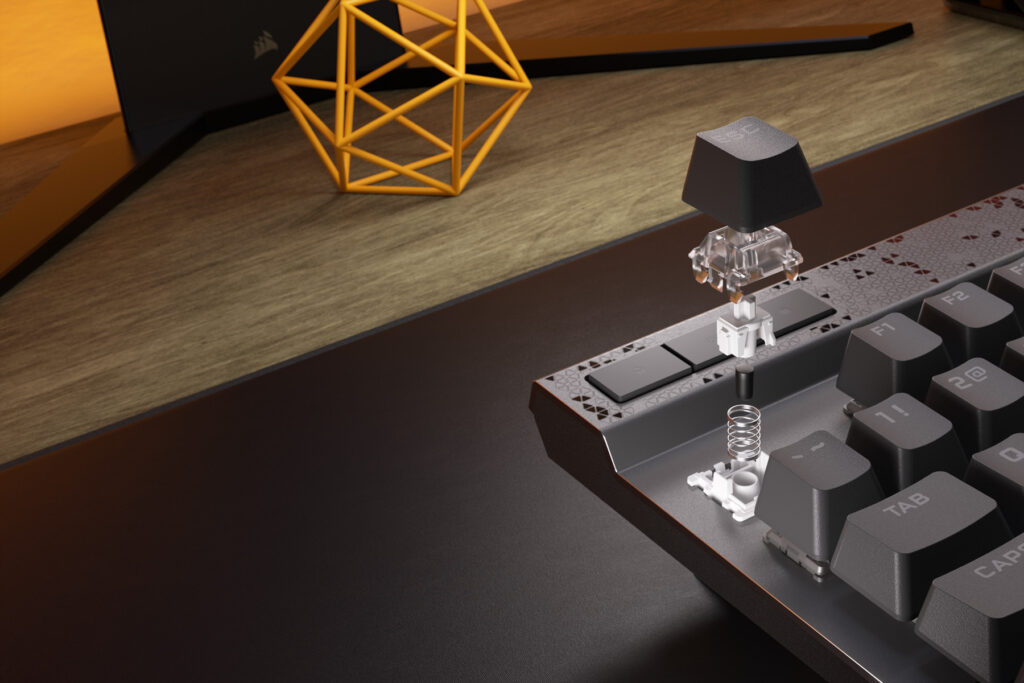 Well-Approved Design
The first Corsair K70 model was released about 10 years ago. The fundamental design stayed pretty much the same in all those years. Anyone who has ever owned a K70, will immediately feel familiar with the K70 Max. The keyboard comes with dedicated keys to control lighting settings and to switch through profiles. In the upper right corner, we have media controls and volume wheel while status indicators are shown in middle of the keyboard, next to the Corsair logo. With an aluminum frame and robust PBT double-shot keycaps, the keyboard was clearly designed with durability in mind.
Ready to Play
The Corsair K70 Max is designed to be your ultimate battle station. For starters, it is obviously great to have the possibility of configuring an actuation point of your own choosing. In this way, you can try out different settings and optimize your gaming performance. But that's by far not all the keyboard has to offer. It features full n-key rollover, 8000 Hz polling rate, pretty RGB lighting, a dedicated gaming mode and of course – the possibility to remap any keys you want via iCUE software. Moreover, a magnetic wrist rest is included in the package contents.
---
Tech Specs for
Corsair K70 Max
Dimensions:
442 x 166 x 39 mm
Macro Keys:
No macro keys
Media Keys:
Dedicated media controls
USB Passthrough:
No USB Passthrough
Keycaps:
Double-shot PBT keycaps
Extras:
With palm rest, fully programmable
Available since:
Aug. 2023
---
Further Information on Amazon.com
Corsair K70 MAX RGB Magnetic-Mechanical Wired Gaming Keyboard - Adjustable Actuation MGX Switches - PBT Double-Shot Keycaps - iCUE Compatible - QWERTY NA Layout - Black
(
Read customer reviews
)
Buy from Amazon.com
---
Mechanical Keyboard Score
The mechanical keyboard score is our overall score for a keyboard. The score is based on the available ratings and critics and makes an easy comparison between different mechanical keyboards possible. It is also used for our mechanical keyboard ranking.
---
Reviews
---
---
---
---
---
---