The Razer BlackWidow V3 Pro is a wireless, mechanical gaming keyboard. It was revealed at September 22, 2020, together with the wireless headset Blackshark V2 Pro and the wireless mouse Deathadder V2 Pro.
Finally a Wireless BlackWidow
The keyboard is the first wireless model from Razer's popular BlackWidow series. It is connected via a 2.4 GHz wireless receiver that is plugged into a USB port of the computer. Razer calls this connection method also HyperSpeed. Alternatively, the Razer BlackWidow V3 Pro can also be paired with up to three devices via Bluetooth. For gaming, the 2.4 GHz connection is the recommended method since it offers a lower latency. The integrated battery enables up to 200 hours of continuous usage when illumination is disabled. With lighting turned on, the expected battery life is somewhere between 5 and 30 hours, depending on which effects are used and which level of brightness is applied. For charging, the keyboard is simply connected via USB-C cable and can be continued to be used in the meantime.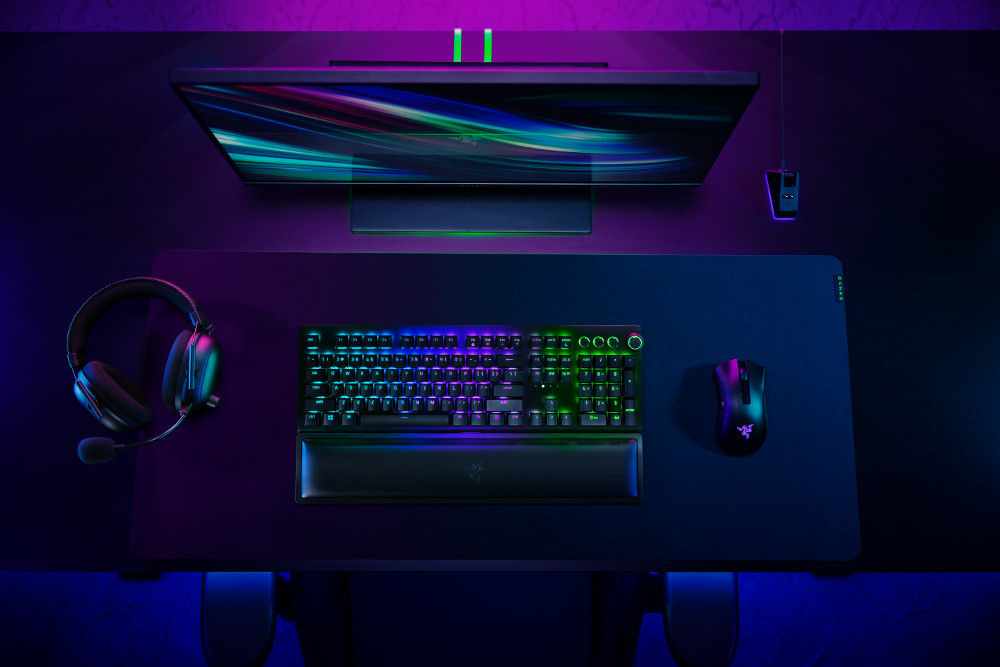 Keycaps, Switches and more
The Razer BlackWidow V3 Pro comes with doubleshot ABS keycaps. These are made out of two layers of plastic molded together which ensures that the labeling will not wear off. They are therefore perfectly suited for long daily use. For simple and convenient handling, the keyboard comes with a digital dial, additional media controls and a soft, cushioned leatherette wrist rest. The Razer Chroma RGB lighting makes sure, that the keyboard is also an optical highlight. There are various lighting modes, tons of possibilities for customization and over 150 supported games with dynamic lighting effects. Put together with an aluminum topframe, the keyboard looks pretty neat.
The keyboard can be equipped with either Razer Green or Razer Yellow switches. The latter ones are provided with additional sound dampeners to make the Razer BlackWidow V3 Pro a very silent mechanical keyboard.
---
Tech Specs for
Razer BlackWidow V3 Pro
Dimensions:
451 x 249 x 43 mm
Macro Keys:
No macro keys
Media Keys:
Dedicated media controls
USB Passthrough:
No USB Passthrough
Switches:
Razer Green, Razer Yellow
Keycaps:
Double-shot ABS keycaps
Extras:
With palm rest, fully programmable
Available since:
Sep. 2020
---
Further Information on Amazon.com
Razer BlackWidow V3 Pro Mechanical Wireless Gaming Keyboard: Yellow Mechanical Switches - Linear & Silent - Chroma RGB Lighting - Doubleshot ABS Keycaps - Transparent Switch Housing - Bluetooth/2.4GHz
(
Read customer reviews
)
Buy from Amazon.com
---
Mechanical Keyboard Score
The mechanical keyboard score is our overall score for a keyboard. The score is based on the available ratings and critics and makes an easy comparison between different mechanical keyboards possible. It is also used for our mechanical keyboard ranking.
---
Reviews
---
---
---
---
---
---