Update 2022: There is a more recent buying guide available: check out our article about the best mechanical keyboards for 2022, showing suggestions for buying a gaming keyboard, tenkeyless keyboard or wireless keyboard.
A mechanical keyboard is the clear first choice for both gaming and working. As a result, the range of available mechanical keyboards grows with each passing year. This trend is no surprise, considering the clear benefits a mechanical keyboard provides. The goal with our website is to offer efficient guidance on finding the best keyboard for you. To this end, we evaluate and review available information from countless sources and share the results. In this following guide, we will present the best mechanical keyboards to buy in 2021.
Best Mechanical Gaming Keyboard 2021
Two keyboards stand out from the crowd when it comes to determine the best mechanical gaming keyboard 2021: The Corsair K100 RGB and the Razer Huntsman V2 Analog. What is so special about those two keyboards?
Corsair K100 RGB
The Corsair K100 RGB combines high-performance gaming and luxury like no other keyboard. It leaves nothing to be desired, the keyboard offers dedicated macros keys, media controls and a volume wheel, USB passthrough, extra keycaps for gaming, a high-quality wrist rest and a multifunctional digital control wheel. The optical switches from Corsair (or alternatively Cherry MX Speed) are ideally suited for gaming. Robust double-shot PBT keycaps and a software with countless configuration options complete the overall package. The Corsair K100 RGB is a hot contender for the title of the best mechanical gaming keyboard 2021.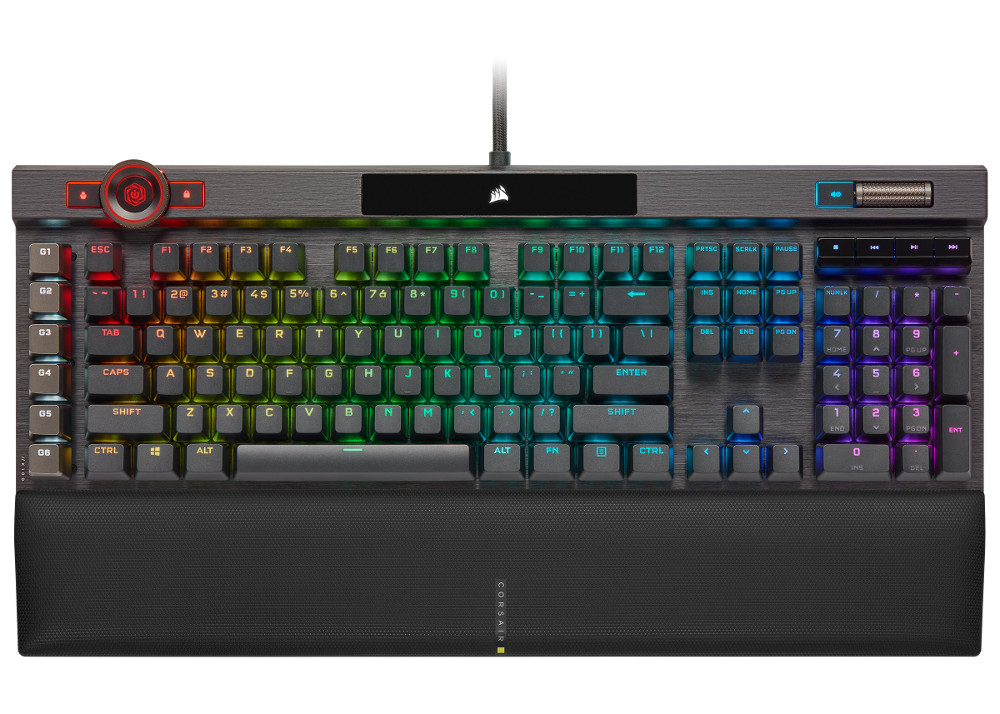 Available since: October 2020
Switches: Corsair OPX, Cherry MX Speed
Highlights: many premium features, great build quality
Razer Huntsman V2 Analog
The Razer Huntsman V2 Analog, introduced in February 2021, features a brilliant new switch technology. Its analog, optical switch is able to measure how far down a key is pressed. This enables cool features like adjustable actuation and dual-step actuation. Moreover, it offers analog inputs in gaming, which enables a similar control as with an analog stick on a gamepad. Furthermore, the Huntsman V2 Analog is also packed full of features, including double-shot PBT keycaps and a stunning Razer-typical RGB illumination. In short, the keyboard is another top contender for the title of the best mechanical gaming keyboard 2021.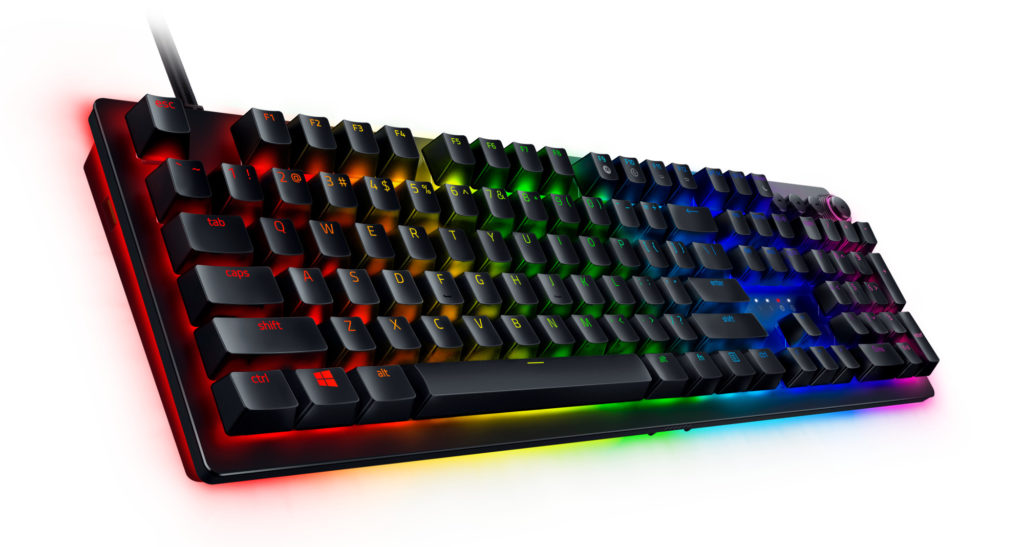 Available since: February 2021
Switches: Razer Analog Optical Switch
Highlights: analog inputs, PBT keycaps, fantastic RGB lighting
More Top Gaming Keyboards 2021
The Corsair K100 and the Razer Huntsman V2 Analog are high-end gaming keyboards, but they also come with a rather steep price tag. Not everyone is able to afford paying $ 250 for a keyboard. But don't worry, there are also good mechanical gaming keyboards available for a lot less. Here are some recommendations:
Best Compact Mechanical Keyboard 2021
A small keyboard offers less keys to work with and therefore sacrifices a bit of convenience, but there is also a major upside. It requires less space and therefore gains lots of flexibility. The popularity of compact mechanical keyboards skyrocketed within the last few years. Many of the new additions in 2021 are either tenkeyless or 60% keyboards. The latter refers to particularly small keyboards without numpad, function row and navigation block. The new HyperX Alloy Origins 60, presented in March 2021, is also such a 60% keyboard. It received many positive reviews, it is one of the best 60% gaming keyboards and it gives you great value for your money. Still small, but with arrow keys, the Fnatic Streak65 offers another great gaming keyboard featuring a 65% form factor.
HyperX Alloy Origins 60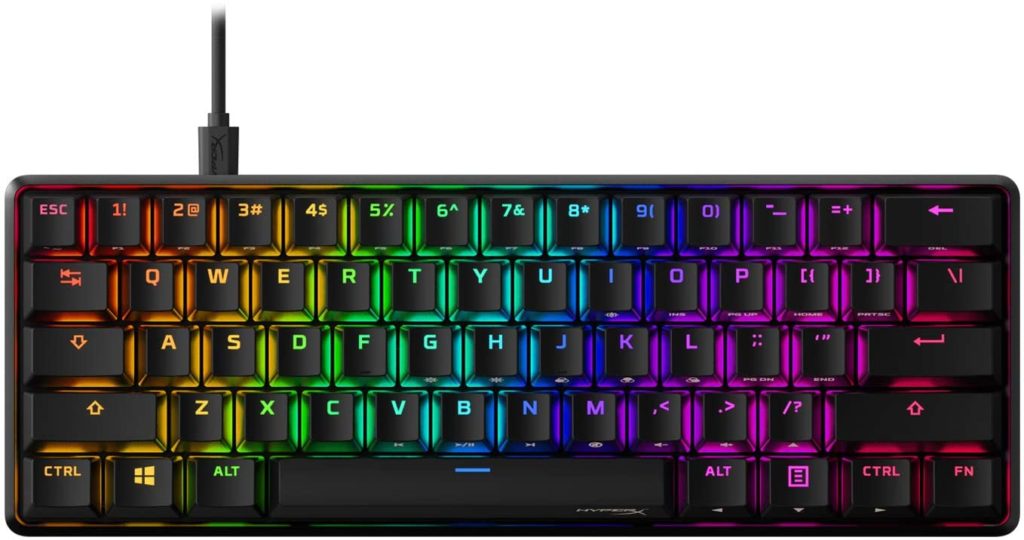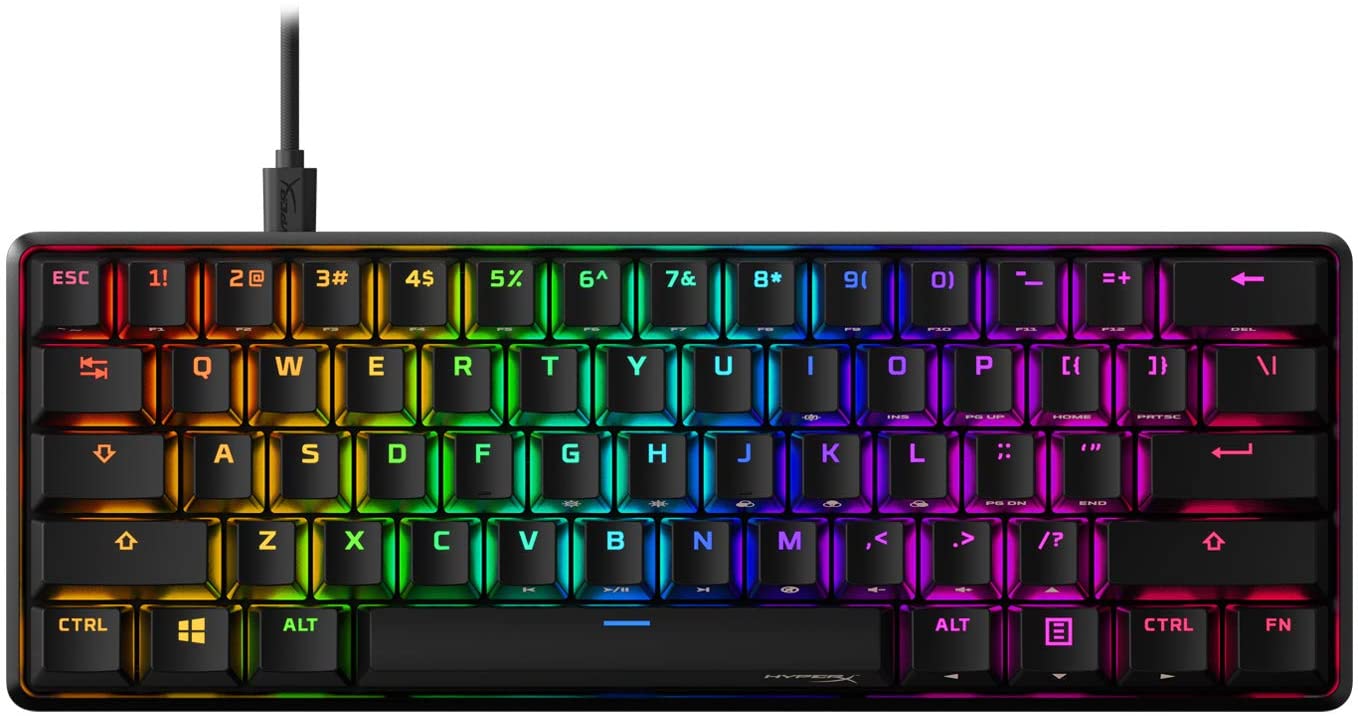 Available since: March 2021
Switches: HyperX Red
Highlights: compact & sturdy
If you like the tenkeyless form factor, you will have many great options to choose from. Several big brands have adapted the habit of releasing a tenkeyless version for almost every new fullsize keyboard. Of course, this makes the buying decision not easier, but more options are always appreciated. Especially the just recently introduced Corsair K70 RGB TKL received outstandingly good reviews, praising its quality, design and PBT keycaps. But also the HyperX Origins Core and Logitech G Pro were well-received even though they are already around for quite some time now, they still are really great picks in 2021. If you want optical switches, we recommend to take a look at the Roccat Vulcan TKL Pro or the Razer Huntsman TE.
Roccat Vulcan TKL Pro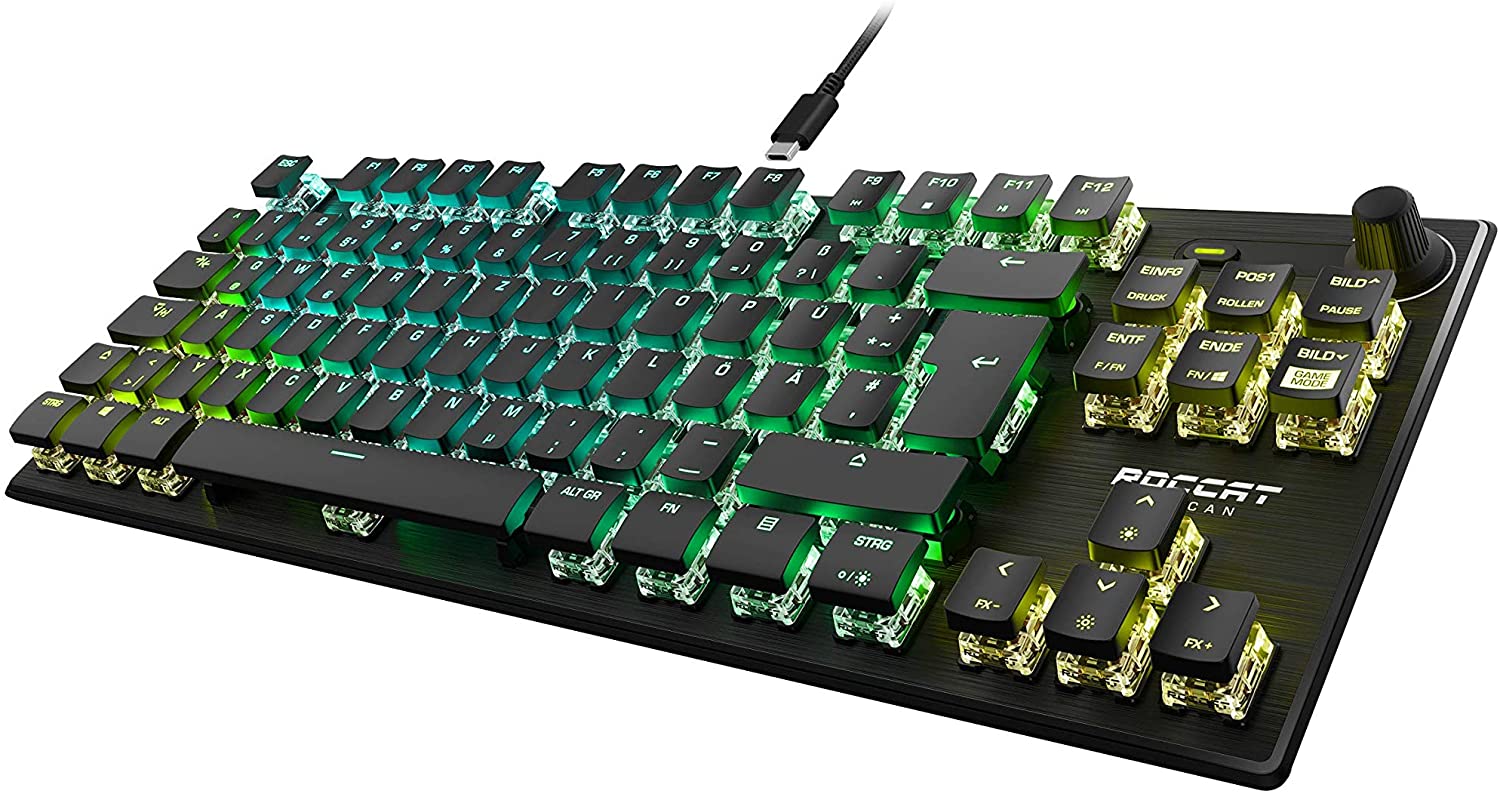 Available since: October 2020
Switches: Titan Optical Linear
Highlights: optical switches, brilliant RGB lighting
Best Wireless Mechanical Keyboard 2021
For a long period of time, wireless mechanical keyboards were just a niche product. There were very little options to choose from. This has started to change now, wireless technology slowly finds it way into mechanical keyboards. There are essentially two modes of connection – either the keyboard features Bluetooth or it is paired with a 2.4 GHz wireless receiver that is plugged into a USB port. Some keyboards support even both, like the Logitech G915 TKL. Speaking of which, the G915 TKL is probably the best wireless mechanical keyboard in 2021. The feature-rich keyboard offers a fast and stable connection, excellent switches and a sturdy but elegant frame. If you are looking for something smaller, you can check out the Cooler Master SK622, a new wireless option in 2021. Furthermore, the BlackWidow V3 Pro now also presents a wireless gaming keyboard for Razer fans.
Logitech G915 TKL
Available since: June 2020
Switches: Logitech GL
Highlights: 2.4 GHz + Bluetooth, low-profile design, media controls
More Mechanical Keyboards
You are still searching? More keyboards can be found in our mechanical keyboard ranking. It shows the best mechanical keyboards with respect to a unique rating computed from tech reviews. If a new review becomes available, it is added in a timely manner, so that the ranking is always up to date. If you are looking for a specific feature set, then our mechanical keyboard overview might be a good starting point. For each keyboard, the most important features and available switches are listed.
Choosing the Mechanical Switch
Buying a mechanical keyboard often requires deciding on which switches should be used. Many keyboards are available with various switch options. There are essentially three kinds of switches to distinguish:
Tactile: Switches with tactile feedback
Clicky: Switches with tactile and audible feedback
Linear: Switches without any tactile or audible feedback
Typically, clicky switches are recommended for typists, linear switches are recommended for gaming and tactile switches are somewhat in-between. Note that this is merely meant to provide some simple orientation for your first buy, but it is certainly not a rule. It is possible to play just as well with clicky Cherry MX Blue and write just as fast with linear Cherry MX Red. Moreover, each switch brand features unique specifications so that two switches can feel quite different, even when they belong to the same category. More details can be found in our explanation of mechanical switches.