Update 2022: There is a more recent buying guide available: check out our article about the best mechanical keyboards for 2022, showing suggestions for buying a gaming keyboard, tenkeyless keyboard or wireless keyboard.
We are collecting all kinds of information about mechanical keyboards by various manufacturers. The goal with our website is to create an efficient guide for finding the best-fitting keyboard for you. Our keyboard ranking shows the best mechanical keyboards with respect to a unique rating computed from countless reviews from various magazines and tech-experts. It is updated on a regular basis, so you will always find the latest ranking at a glance.
Are you looking for a keyboard with some particular feature set? Maybe a wrist rest is really important for you? Then please, have a look at our tabular mechanical keyboard overview. For each keyboard, the most important features and available switches are listed. Furthermore, for some typical use cases, you will find buying recommendations for 2020 in this article.
Best Mechanical Gaming Keyboard 2020
One of the best, possibly even the very best mechanical gaming keyboard one can buy in 2020 is the Corsair K70 RGB MK.2. The keyboard has really a whole lot to offer:
Stunning RGB illumination, lots of customization options
Cherry MX Switches of your choice and a high build quality
Well placed media controls, USB passthrough and wrist rest
Extra keycaps for shooter and MOBA games, incl. keycap puller
Obviously, the keyboard is not really cheap, but its price is more than fair considering all its features. If you want to have dedicated macro keys, then take a look at the very similar Corsair K95 RGB Platinum. Moreover, also the low-profile version of the K70, namely the Corsair K70 RGB MK.2 Low Profile, convinces thoroughly and is a great gaming keyboard. In this area though, the great Logitech G815 makes a fierce competition.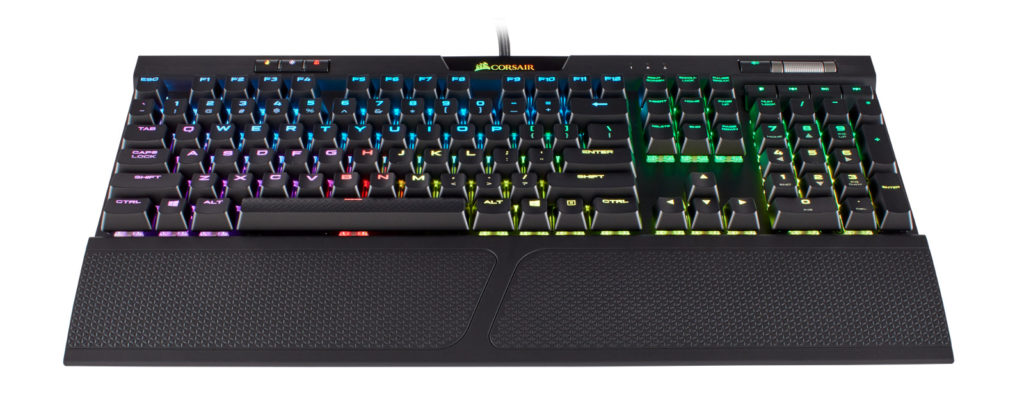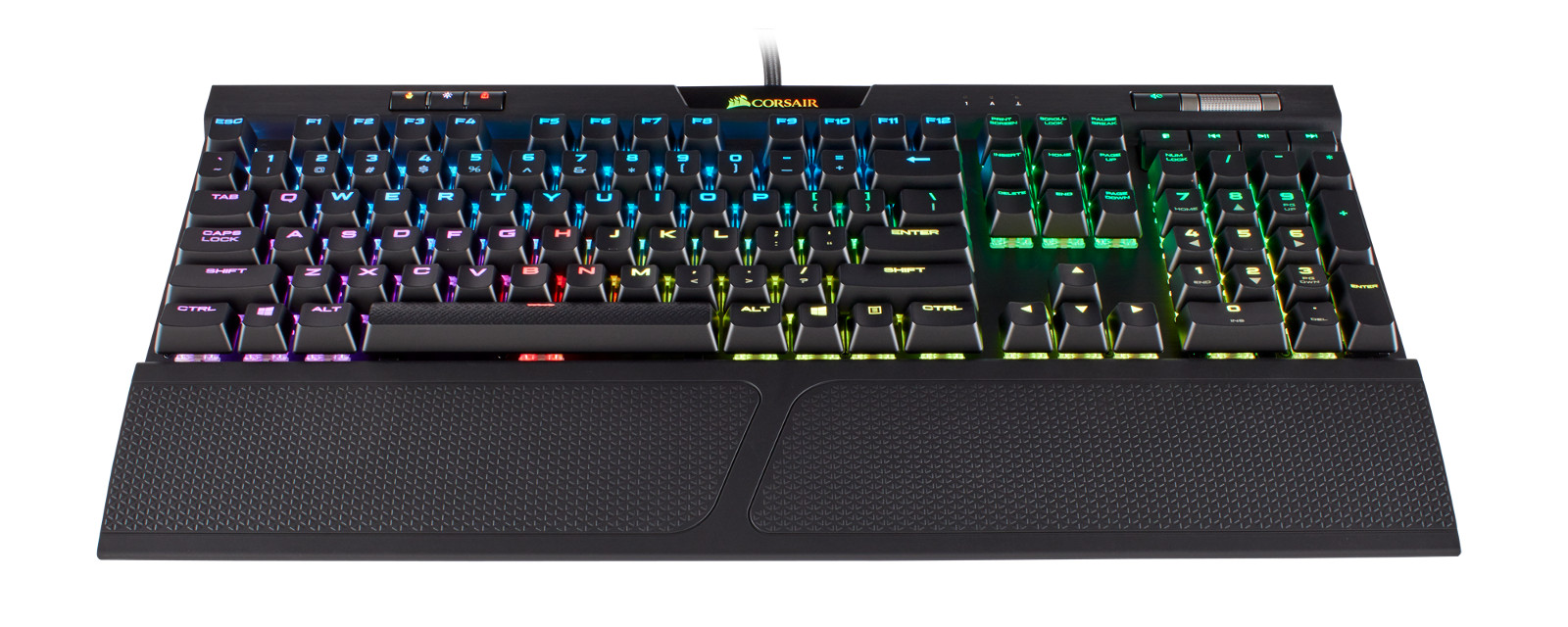 If money is no concern, then you can also consider the Razer Huntsman Elite. The keyboard is sometimes dismissed because of all its crazy lighting effects – even the wrist rest is illuminated. Nevertheless, it actually has received lots of positive reviews and is a really great keyboard. You definitely can get a similar set of features for less money, but the others will not have the opto-mechanical switches of the Razer Huntsman Elite, so there is a unique selling point.
Best Tenkeyless Mechanical Keyboard 2020
The term tenkeyless keyboard refers to a keyboard without a numpad. There are several reasons, why one would prefer a tenkeyless over a standard keyboard. A tenkeyless keyboard requires less space on the desk, has less weight and is usually easier to transport. Moreover, the tenkeyless version is often a bit cheaper than the standard version of a keyboard. One keyboard that provides a particular good value for its money is the Fnatic Ministreak. For about 100 USD, you get a mechanical gaming keyboard with RGB illumination, some media controls, wrist rest and Cherry MX switches.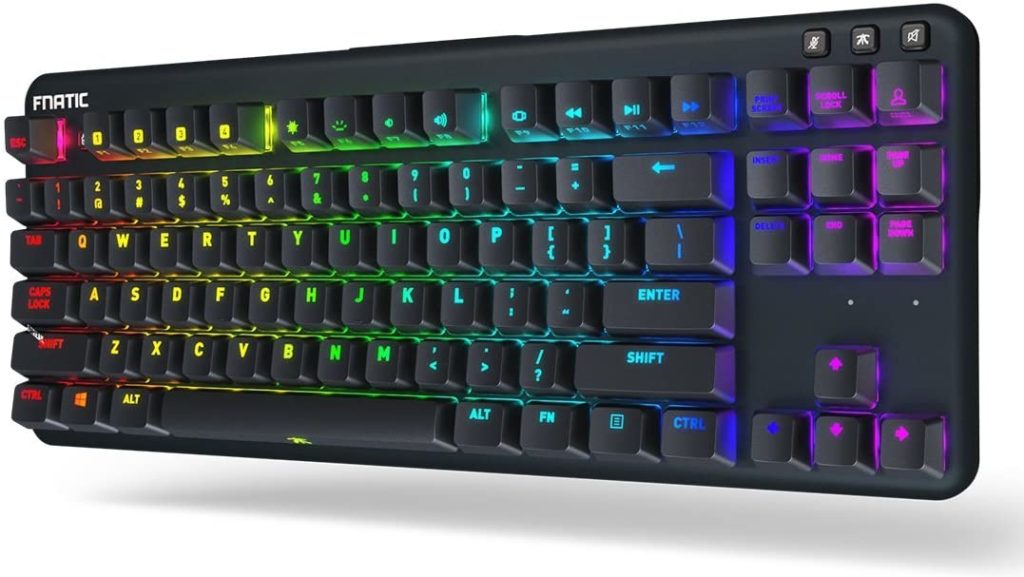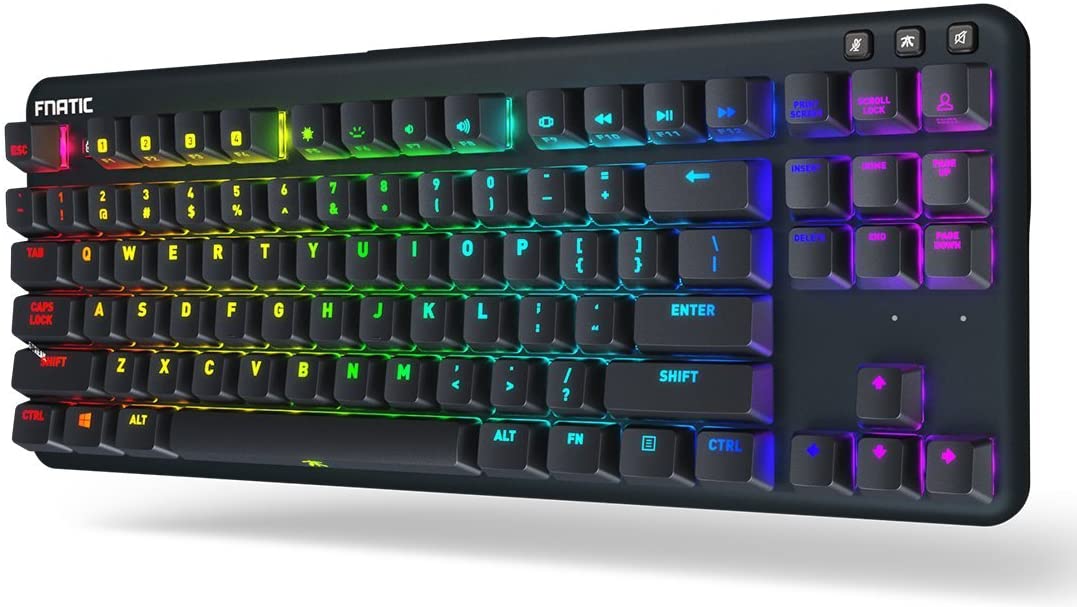 If for whatever reason you want another choice, you can take a look at the Logitech G Pro. The keyboard was already introduced in 2017, but it received a few updates and it is still a good option in 2020. The price though is a little bit higher than the one of the Fnatic Ministreak (at least right now) and the keyboard features Logitech GX switches instead of Cherry MX switches.
Best Wireless Mechanical Keyboard 2020
For a long time, wireless mechanical keyboards were quite a rarity. The quality and speed of a wireless connection was not high enough to satisfy the high-quality standards that are customary for mechanical keyboards. In recent years however, that has changed and wireless technology fast enough even for high-performance gaming, has been developed. The range of available, competitive keyboards is still rather small though. So, if you want to buy a wireless mechanical keyboard in 2020, the decision making should be pretty simple: If you want the full package with RGB lighting, dedicated media controls and macro keys, then take the Logitech G915. If single-colored illumination is enough and  you can live without a numpad (tenkeyless keyboard), then the Corsair K63 Wireless provides a cheaper and more compact alternative.

Which Switches should you choose?
Buying a mechanical keyboard often requires deciding on which switches should be used. At least some of the previously recommended keyboards are available with various switch options. There are essentially three kinds of switches to distinguish:
Tactile: Switches with tactile feedback
Clicky: Switches with tactile and audible feedback
Linear: Switches without any tactile or audible feedback
Typically, clicky switches are recommended for typists, linear switches are recommended for gaming and tactile switches are somewhat in-between. Note that this is merely meant to provide some simple orientation for your first buy, but it is certainly not a rule. It is possible to play just as well with Cherry MX Blue and write just as fast with Cherry MX Red. Each manufacturer builds their switches by their own specifications, so two switches from different manufacturers can be quite different, even when they belong to the same category. More details can be found in our explanation of the most important switches.