A lot of new mechanical keyboards were launched in 2017. This article introduces the most important new keyboards, gives a quick outline for each one and reveals how they are doing in their first reviews.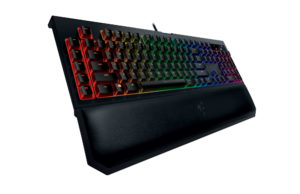 Razer BlackWidow Chroma V2
At the beginning of the year, Razer introduced the successor of its most popular gaming keyboard. The new model is called Razer BlackWidow Chroma V2 and it's available since January. With RGB lighting, 10 key rollover, a gaming mode, five dedicated macro keys, an integrated USB passthrough and a magnetic wrist rest, the keyboard leaves almost nothing to be desired.
The Razer BlackWidow Chroma V2 received mostly positive reviews, some however, criticized the high price tag and missing innovations when compared to is predecessor.
New keyboards in various price ranges from Corsair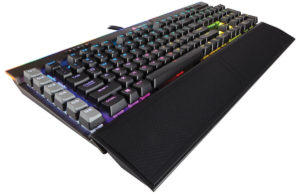 Just as Razer, Corsair also delivered a new flagship model at the beginning of the year: The Corsair K95 RGB Platinum is a mechanical gaming keyboard with RGB illumination, full key rollover, six macro keys and some lovely multimedia controls. Moreover, there is a palm rest and a USB passthrough for greater convenience. The keyboard features Chery MX Brown and Cherry MX Speed switches. The Corsair K95 RGB Platinum achieved amazing results in its evaluation. No other mechanical keyboard has ever gotten so many excellent reviews. The K95 RGB Platinum is a hot candidate for the best mechanical gaming keyboard 2017.
Later in the year, Razer introduced two further mechanical keyboards. The Corsair K63 was presented in March and the Corsair K68 was presented in June. The K63 is a compact mechanical gaming keyboard (tenkeyless) with red background illumination and Cherry MX Red switches. The K68 is a dust and spill resistant mechanical gaming keyboard with Cherry MX Red switches. Up to now, there are just very few reviews for those two keyboards available, so a comparison of the results is not very meaningful yet.
Logitech finally takes mechanical keyboards seriously
Surprisingly many new mechanical keyboards were presented in 2017 from Logitech. At the start of 2016, Logitech had no more than two mechanical gaming keyboards in its portfolio. In the last year, two additional series were added with the Logitech G610 and the Logitech G810. Now the manufacturer presented four more keyboards just within the last six months.
The Logitech G Pro was introduced in March and is a compact mechanical gaming keyboard (tenkeyless) with Romer-G switches. It was designed with a high mobility in mind and therefore mainly targets gamers, who travel a lot with their equipment. And of course, all people who just like having a compact keyboard. The reviews of the Logitech G Pro Keyboard were very good, the overall performance is really convincing.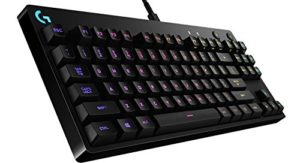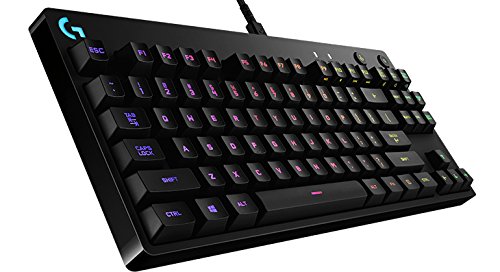 In April 2017, Logitech presented a rather minimalistic mechanical keyboard: The Logitech G413 is an illuminated and rather cheap mechanical gaming keyboard with Romer-G switches. The base plate is made of aluminum alloy, which makes the keyboard very robust and gives it a high-quality look. Thanks to background illumination, a gaming mode and 26 key rollover, the keyboard is well fit for gaming. But through its minimalistic design, the keyboard is also perfectly suitable for everyday life. The Logitech G413 received many good reviews, especially its high build quality and the good value for the money were praised.
In Mai 2017, Logitech introduced its first mechanical non-gaming keyboard, hence a mechanical keyboard for work and everyday life. Of course, it's possible to work with almost any gaming keyboard too, but higher prices and the ludic look of some of the keyboards keep a lot of people from doing so. The Logitech K840 features a straight-forward design without any superfluous gadgets. It's therefore perfectly suited to be used in an office. Furthermore, it's rather cheap and promises a high lifespan, as the Romer-G switches should sustain at least 70 million keystrokes. Currently the keyboard is only available in North America and Asia.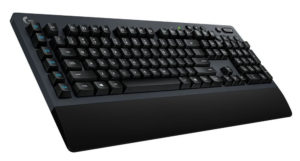 In the end of August, Logitech attracted the attention one more time. The manufacturer presented its first wireless mechanical gaming keyboard, the Logitech G613. Logitech is therefore the first big brand to sell a wireless mechanical keyboard. The keyboard uses the new proprietary Logitech Lightspeed technology to transmit its signals. The manufacturer promises a signal rate of 1 milisecond, facilitating a user experience comparable to handling a tethered solution. As the keyboard is currently available for just a few weeks, there are not many reviews out yet.
New flagship from SteelSeries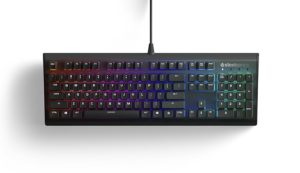 In August 2017, SteelSeries presented its new flagship model: The Apex M750, a mechanical gaming keyboard, features SteelSeries QX2 switches, which are manufactured in cooperation with the Gateron. In comparison to its successor Apex M800, the keyboard is a bit cheaper, but also had to take a few cuts. It no longer has an USB hub, dedicated macro keys or a cable management solution.
Overall, the first few reviews issue a rather positive verdict and argue that the SteelSeries Apex M750 is a good mechanical gaming keyboard.
Mechanical keyboard list & ranking
2017 was an interesting year so far, some great new mechanical keyboards were introduced to the market. One of them, the Corsair K95 RGB Platinum, even made it to the top of the mechanical keyboard ranking. The keyboard achieved almost perfect score in many reviews.
But of course, each person has its own preferences. Some might want a keyboard with illumination, dedicated macro keys and eye-catching design, others might simply prefer a compact keyboard with minimalist design. Just because a lot of people call a keyboard the best mechanical keyboard, doesn't necessarily mean it's also the right choice for you. A comparison of the feature set and technical specifications can be useful to respect individual requirements. Our keyboard list offers a quick overview of the most important data for each keyboard.